Morning, punks!  Fun Friday is here again!  Hope you all have big plans for the weekend.  For myself, it's gonna be busy busy busy; going swimming with the family in this gorgeous lake on our farm.  Strange thing is, that lake wasn't there six weeks ago, and peculiar sounds — moans, clanking chains, the occasional inhuman scream — waft out of there after midnight.  Most unusual.
But that's tomorrow.  Today I want to introduce you to Scott, who I met on Reddit (I'm AJClarkson over there, so feel free to come find me!).  He is doing the most amazing Dieselpunk/Steampunk prop weapons, and selling them on Etsy. Check this out: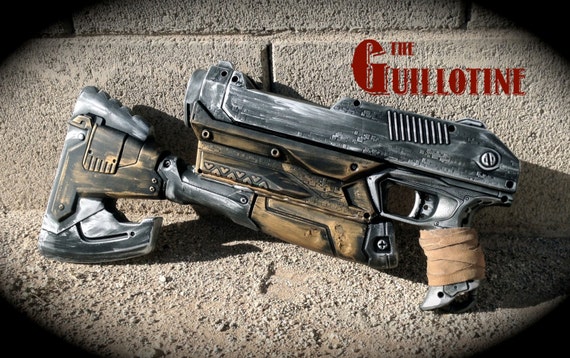 or this: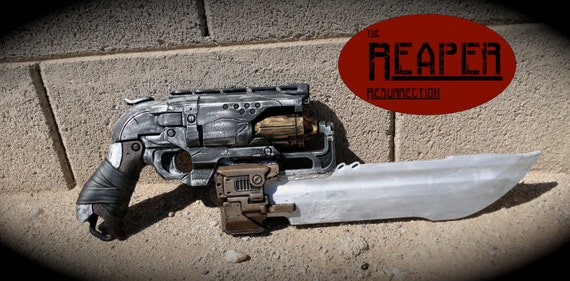 I know, right?  Check out his Etsy page, The Great Collector, for more gorgeous guns, at totally reasonable prices!  And while you're at it, check out this video Scott made; it's a Steampunk western flash animation (I think; I'm not all that tech savvy) called The Legend of Everett Forge.  It's about a roboticized Wild West.  Not watched all the installments yet, but so far, so good.
Scott's quite the Renaissance Man!  Just the kind of guy we can always use in ClarksonPunk land, right?
Here's the first video:
We move onward and backward, to the 19th century.  Have you all heard of The Clockwork Quartet?  I stumbled across these guys on YouTube a year or so ago, and like them very much.  Wikipedia classifies them as a musical group with a strong Steampunk aesthetic.  But their webpage here indicates that there's more to them than that.  On their webpage they describe themselves thusly:
What if the age of rail came before the age of sail?

A young and paranoid Queen rules over a large but crumbling British Empire, where war is waged using gigantic battle trains and wounded soldiers are repaired with clockwork.

Against a backdrop of mutinous generals, brutal secret police, noble plotting and widespread civil unrest, her younger brother – thought dead decades ago after a bloody civil war – returns to claim what is rightfully his.

The Clockwork Quartet is a multimedia project by the creative studio Original Content London based in Shoreditch at Top Office Machines.
I don't know what all that means, but it has my attention.  They have a subforum on Reddit (not terribly active at the moment, but still….), they have a surprisingly beautiful web graphic novel on their webpage (and it really is beautiful, with a strong impressionist watercolor aesthetic to it that I like very much).  It's still unfinished, but if you want to take a look, start here.
But mostly they're musicians.  I REALLY like the music.  Here, take a listen.
Cool, right?
Okay, I think that's it for me for today.  Thank you, Scott, for letting me post your gorgeous pictures.  Dear Readers, if you have something good for Fun Friday, please do contact me at the email addy on my "About" page.  I want to share your creativity; your creativity sparks the imaginations of everybody who sees it, and that's a good thing.  Even if you don't have something special to share for Fun Friday, feel free to write to me anyway, and don't forget to share on Facebook, Twitter, LinkdIn, Reddit, you name it.  And comment, please; bloggers thrive on comments, and it's all the feedback we usually get.  Yes, I'm needy about comments, don't judge me!  😀