It's Friday!  Whoo hoo!  I hope you have big plans for enjoying your weekend.  My plans are huge, as usual; they involve sitting around in my jammies half of Saturday, until my nap precisely at two o'clock.  After that, I intend to waste the rest of the day.  Sunday, of course, means dinner with the family.
See?  I live life large!
Today's offering for Fun Friday is Steam Trek , a classic video created in 1994 by Dennis Sisterson and the Ad Hoc Film Society.  It's a funny film combining the original Star Trek series, Steampunk and silent movies.  It's set in the far flung future of 1980, and the Enterprise is a steam driven space ship.  Captain James T. Shirt (played by Jon Chapman) leads an Away Team to the surface of an unexplored planet, hoping to find coal to fuel the Enterprise's steam engines.  Instead he finds coal monsters and Klingons.  According to its Wikipedia page, it was originally aired at the Archon Convention in 1994, and has since been praised by critics throughout the science fiction and Star Trek community.
My favorite part is that it's free on YouTube.  Just follow the link above.  The creator, Dennis Sisterson, has a blog here  that talks about it and other topics.  Check them out!
For those of you who can't get enough Classic Pulp, let me recommend The Online Pulp Stories page.   I can't really find out anything about the origin or the creators of the page, beyond what it tells on its own.  What makes it Fun Friday-worthy is that it's a database of over three hundred classic pulp short stories culled from the magazines of the 1930's and 40's.  It's hardly comprehensive, but it's still being updated fairly regularly, and there's a nice collection of links, which always gets my attention.
Finally, check this out!  Our first reader contribution to Fun Friday, from Chris Maj.  And wow, what a gorgeous contribution it is!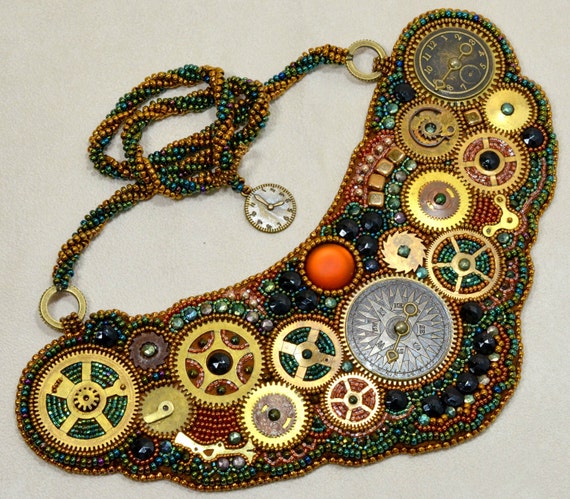 And this…..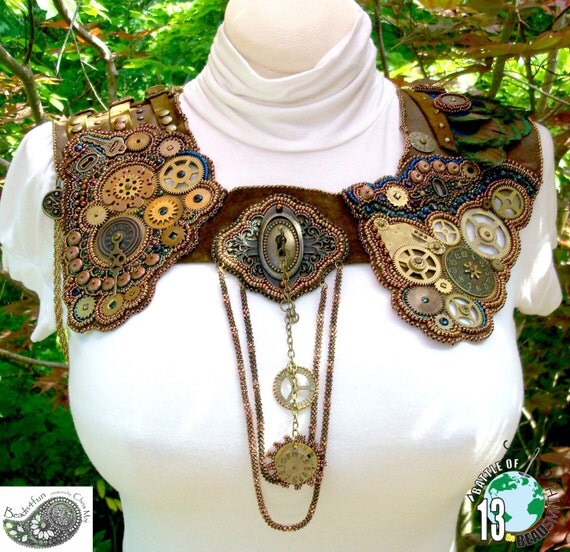 And what about this?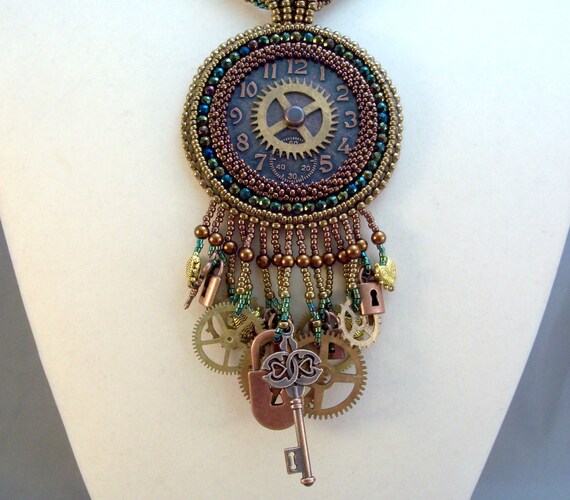 Jaw-dropping, huh?  Seems Chris is a brilliant beadworker, in addition to being a Steampunk diva, and these are projects she's done for her Etsy page, which you can find here.  Yes!  This stuff is for sale, and at pretty good prices!  Chris also has a blog, which is chock full of more beautiful project images, many of which zoom in much closer than I can fit onto my little blog page.
I've seen people doing this sort of seed bead work before and it requires steady hands, eagle eyes and a level of creativity that Yours, Truly couldn't muster in a month of Fridays, fun-flavored or not.  So mad props, Chris, I am awestruck.  Dear Readers, do go check out her work, so you can do the jaw-hitting-the-floor thing, same as me when I got her first email images.
And I think that's it for Fun Friday this week.  Tune back in on Monday, where we'll be talking about a French movie, The City of Lost Children.  In the meantime, do keep those emails and comments coming; I need your feedback!
Enjoy your weekend!
~Allene